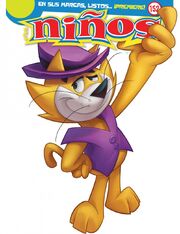 Top Cat (or T.C.) is the yellow furred, greedy, somewhat lazy and clever main character. He wears a purple hat and vest. He often rips off and/or tricks his gang and
Officer Dibble
. He does respect the effort the gang does for him, but he often takes credit for it. That said, he is loyal to the gang and will help one of them if they need it. He also stops Officer Dibble from arresting him by lying to Dibble about how much talent Dibble has. He is voiced by the late Arnold Stang. he is about 15 but in the movie, he is 20.
Ad blocker interference detected!
Wikia is a free-to-use site that makes money from advertising. We have a modified experience for viewers using ad blockers

Wikia is not accessible if you've made further modifications. Remove the custom ad blocker rule(s) and the page will load as expected.