Timmy Turner is a ten year old boy who was miserable enough to get two fairies Cosmo and Wanda (Three now because Timmy wished that Cosmo and Wanda would have a baby) Timmy is constantly tortured by his baby sitter Vicky, his crazy fairy hunting teacher Mr. Crocker, a bully named Francis and several magical enemies like Anti Cosmo and Norm the genie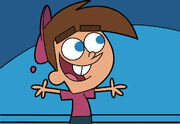 Ad blocker interference detected!
Wikia is a free-to-use site that makes money from advertising. We have a modified experience for viewers using ad blockers

Wikia is not accessible if you've made further modifications. Remove the custom ad blocker rule(s) and the page will load as expected.