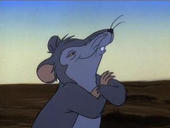 Templeton is a rat in the movie Charlotte's Web. Templeton is a greedy rat that's eat's most of Wilbur's food and likes the smell of rotten eggs. Templeton ends up helping Wilbur however by finding new words for Charlotte at the junkyard. He was once an antagonist until then learned to respect Wilbur.
Ad blocker interference detected!
Wikia is a free-to-use site that makes money from advertising. We have a modified experience for viewers using ad blockers

Wikia is not accessible if you've made further modifications. Remove the custom ad blocker rule(s) and the page will load as expected.