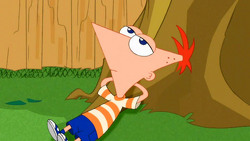 Phineas Flynn is a young boy who lives in the fictional town of Danville with his mom, step dad, sister, step brother and his pet platypus . He is friends with Buford, Baljeet, Isabella and the fireside girls. He is an optimist and is extremely smart and creative. He and his step brother Ferb build huge and exciting things everyday of Summer in order to make the most of it.
Ad blocker interference detected!
Wikia is a free-to-use site that makes money from advertising. We have a modified experience for viewers using ad blockers

Wikia is not accessible if you've made further modifications. Remove the custom ad blocker rule(s) and the page will load as expected.