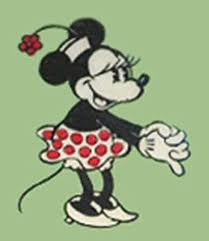 Minnie Mouse (or Minerva Mouse, her full name) is an animated mouse created by Walt Disney and Ub Iwerks. She was created so that Mickey Mouse would have a sweetheart, because Mickey took the place of Oswald the Lucky Rabbit, who had many different girlfriends. She was designed to follow the "modern " fashion back then. She originally wore a feminine Bowler Hat with a daisy sticking out of it, white gloves, a short dress, and oversized high-heel pumps that her feet often slip out of. In "The Galloping Gaucho," she even loses her shoes completely.
Minnie's first appearance was in "Plane Crazy," (which was also the first appearance of Mickey ) a sketch where Minnie joins Mickey when he first flies his plane. Mickey asks to kiss her but she refuses, but at one point in the flight he eventually forces her to, which leads to her parachuting off of the plane. Afterwards MInnie also appears in "The Gallopin' Gaucho," "Steamboat Willie," "Mr. Slicker and the Egg Robbers," and many more sketches. She is close friends with Daisy Duck, friends with Clarabelle Cow, and she has a sister named Mandie, two nieces named Millie and Melody Mouse, and her parents' names are Marshall and Matilda Mouse. She is currently voiced by actress Russi Taylor. That's Minnie Mouse's story
Ad blocker interference detected!
Wikia is a free-to-use site that makes money from advertising. We have a modified experience for viewers using ad blockers

Wikia is not accessible if you've made further modifications. Remove the custom ad blocker rule(s) and the page will load as expected.