]]James W Scott is a Scott Character

Bio: James Washington Scott Or James W Scott Or Just Scott is a Character who 1st appeared In 1913
When he was 3 In a Half he met Joey And Some other Friends He Originally Lived in the Wyoming Countryside
His 1st And Last Name was From a Man Named James Scott and the Middle Name George Washington George W Carver and George W Johnson He was Born in a Old Timey Hospital On May 14th But his Actual Birth date was when he was Created?
Scott is a 20 Year old Dude who Likes to Do Stuff And Attends Echoville College
IQ: He Has a IQ Of 578
Trivia: His Favorite Food is Pancakes Candy Bars Sandwiches And More And Drinks Fizz Or Fizz And Bros Diet Fizz Milk And More He is a Real Dude He Wears His Trademark Cap For a Reason
His Car is the Love of his life But His True love of his life is Marie Ruthbagel
He and Her met at a Poker Night with There Family and His
His Mother is Never Shown Except for the 1970 Scott Toon Episode Go for the Jog
His Favorite place to eat is BCC Burgers Chocolate And Chicken
He Likes To Run
Quotes: JANTOS! Used when Something Unexpected Or Something Wrong Happens Scott at your Service Bonjur Monsuiers
Al Casa de Velendors Scotts way of saying Bon Bye Bye Bon voyage When he goes away Hello Insert Character Here
Who Does that will be Insert Punishment Here Like the 1955 Comdey the Scotts of wrath like StrugJooked
Gallery: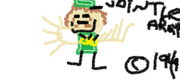 Ad blocker interference detected!
Wikia is a free-to-use site that makes money from advertising. We have a modified experience for viewers using ad blockers

Wikia is not accessible if you've made further modifications. Remove the custom ad blocker rule(s) and the page will load as expected.