Huey, Dewey and Louie are young, anthropomorphic white duck triplets who are the nephews of Donald Duck, created by Ted Osborne and Al Taliaferro. With identical appearances and personalities, the boys are popularly known as loving supporters and mischievous adversaries to Donald, filling both roles in various forms of media since their debut in the 1938 comic story and corresponding animated short, Donald's Nephews.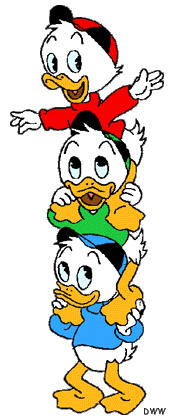 Ad blocker interference detected!
Wikia is a free-to-use site that makes money from advertising. We have a modified experience for viewers using ad blockers

Wikia is not accessible if you've made further modifications. Remove the custom ad blocker rule(s) and the page will load as expected.