Felix the Cat is a funny-animal cartoon character created in the silent film era. The anthropomorphic black cat with his black body, white eyes, and giant grin, coupled with the surrealism of the situations in which his cartoons place him, combine to make Felix one of the most recognized cartoon characters in film history. Felix was the first character from animation to attain a level of popularity sufficient to draw movie audiences.[1][2]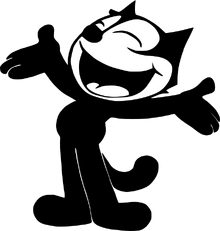 Ad blocker interference detected!
Wikia is a free-to-use site that makes money from advertising. We have a modified experience for viewers using ad blockers

Wikia is not accessible if you've made further modifications. Remove the custom ad blocker rule(s) and the page will load as expected.