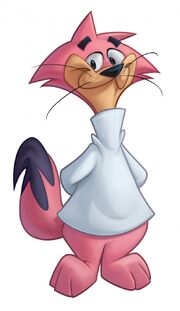 Choo-Choo is one of the main characters in the show "Top Cat".
He is the tallest of the six alley cats (counting himself) and one of Top Cat's pals. He is a pink cat wearing a white turtle-neck long-sleeve shirt. He is enthusiastic and devoted to Top Cat even he is clueless as to what he is doing. He is about 13 but in the movie, he is 18.
He is voiced by Marvin Kaplan in the series and Jason Harris in the movie.
Ad blocker interference detected!
Wikia is a free-to-use site that makes money from advertising. We have a modified experience for viewers using ad blockers

Wikia is not accessible if you've made further modifications. Remove the custom ad blocker rule(s) and the page will load as expected.