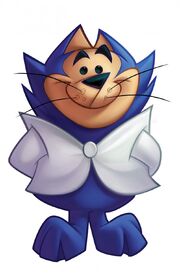 Benny the Ball is one of the main characters in the show "Top Cat".
He is short of the six alley cats (counting himself) and one of Top Cat's pals. He is a cute and naive blue cat wearing a white jacket. he is about 7 but in the movie, he is 10.
He has a number of episodes have focused on him (including "The Violin Player", "The Unscatchables" and "The Missing Heir". He is voiced by John Stephenson in Yogi's Ark Lark, Avery Schreiber in Top Cat and the Beverly Hills Cats, Chris Edgerly in the movie and Maurice Lamarche in Harvey Birdman: Attorney at Law.
Ad blocker interference detected!
Wikia is a free-to-use site that makes money from advertising. We have a modified experience for viewers using ad blockers

Wikia is not accessible if you've made further modifications. Remove the custom ad blocker rule(s) and the page will load as expected.