Arnold is an animated character in the show Hey Arnold. His head is shaped like an American football so some people call him football head. He was voiced by at least 5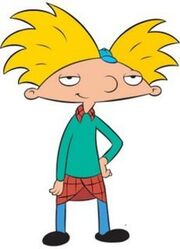 different actors. Arnold is a nice kid who always tries to see the best in people. He goes to a school called P.S 118 and is picked on. He has spikey blonde hair. His parents went on a mission in a jungle and disappeared. He loves jazz music and plays the harmonica.
Ad blocker interference detected!
Wikia is a free-to-use site that makes money from advertising. We have a modified experience for viewers using ad blockers

Wikia is not accessible if you've made further modifications. Remove the custom ad blocker rule(s) and the page will load as expected.