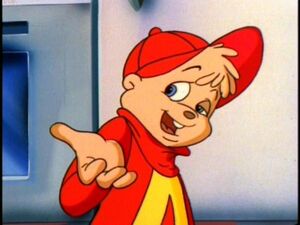 Alvin is a singing chipmunk from the band Alvin and the Chipmunks. Alvin is the leader of the band and often gets them into trouble or sticky situations. Fortunately (or unfortunately) Alvin always has some sort of plan to get them out of trouble (though it is usually one of his plans that got them into trouble in the first place.) Alvin's plans tend to be a little strange or dangerous but he calls them "challenging the ordinary." Alvin's signature color is red and he plays the guitar and the harmonica.
Alvin was #44 on TV Guide's top fifty cartoon characters of all time
The cartoon version of Alvin has blue eyes but the movie version's eyes are amber
Ad blocker interference detected!
Wikia is a free-to-use site that makes money from advertising. We have a modified experience for viewers using ad blockers

Wikia is not accessible if you've made further modifications. Remove the custom ad blocker rule(s) and the page will load as expected.